Agricultural Fuel Delivery
How Can Automated Fuel Delivery from Von Eiff Oil Help Your Farm?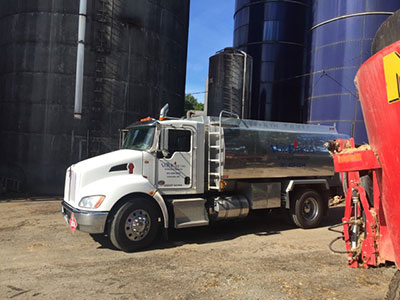 If you are a farmer who needs diesel delivery for your equipment, fuel for your tanks or generators, Von Eiff Oil should be your source for automated fuel delivery.
Automated fuel delivery from Von Eiff Oil essentially does the work for you, rather than making you continue to constantly check your bulk fuel tank gauge and worry about running out of fuel. If you are in Montgomery, Frederick, Howard or Baltimore Counties, or anywhere in our service area, we will work with you to increase your productivity and help you cut the time you currently spend on fueling.
Von Eiff Oil has been in business since 1944, and the expertise that comes from such longevity provides peace of mind for your business. In addition, we are a woman-owned business, and a MDOT (Maryland Department of Transportation) certified MBE#09-236 fuel supplier in Maryland.
How Does Automated Fuel Delivery from Von Eiff Help?
When you partner with Von Eiff, you will experience the following results almost immediately:
Increased productivity. Our automatic fuel delivery allows you to spend less time worrying, checking tanks and waiting for deliveries.
Reduced price volatility. With our average monthly pricing option, the price you pay for fuel equals the 30-day average price of fuel for the billing cycle in which you actually use the fuel. Your days of worrying about where the market will go or waiting for prices to drop are over.
More flexible cash flow. Each month, our monitor estimates the amount of product you have used and you are billed for that amount, even though your tank is kept at a seasonal level. Because your funds are not tied up in the fuel in your tank, you have more flexibility with your money.
Our Fuel Product & Lubricant Selection
Off-Road Diesel
On-Road Diesel
Heating Oil
All Grades of Gasoline
Kerosene
Motor Oil and Other Lubricants
Learn More About Automated Fuel Delivery from Von Eiff Oil Company
Farmers in Carroll County, Frederick County, Montgomery County, Baltimore County and Howard County have relied on Von Eiff Oil for more than 70 years. For more information about our agricultural fuel delivery services, visit our Contact page or call 1-800-VONEIFF (866-3433).